Outline of the Junior and Senior High School at Komaba, University of Tsukuba
Brief history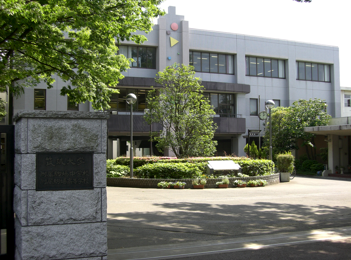 1947 The Junior High School is opened at the Tokyo Agricultural Teachers College.

1949 The school is renamed as the Junior High School, Tokyo Agricultural Teachers College of Tokyo University of Education.

1950 The Senior High School, Tokyo Agricultural Teachers College of Tokyo University of Education is opened.

1952 The school is renamed as the Junior High, and Senior High School at Komaba, Tokyo University of Education.

1956 Commencement of the consecutive education system integrating the junior and senior high schools.

1978 The school is renamed as the Junior and Senior High School at Komaba, University of Tsukuba.

2007 The 60th anniversary
Educational Features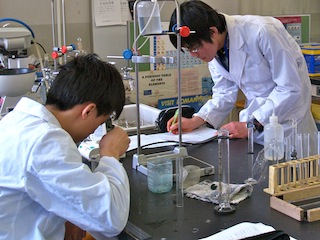 Our school's objective is to "aim at a lifestyle of challenge,creativity, and contribution, based on a free and vigorous school spirit." Impartial to existing values, we strive to develop new paths socially, culturally, and academically, with the purpose of returning these results to society. Our school life is structured in such a way so that each set of educational activities, such as classes, school events, and the club activities, function in a mutually complementary manner. The content of our classes progresses from teaching fundamental concepts to encouraging students to extend their inquisitive spirit, and then to cultivating an attitude for individual development. Advancing through these steps allows students to realize their intellectual potential. Since 2002, as a "Super Science High School"(a research development designation by Japan's Ministry of Education for certain senior high schools), we are also addressing the development of progressive teaching methods. From the initial planning stages to execution, school events such as music, sports, and culture festivals, as well as rice-planting and excursions, are organized by the students through long-term collaboration. Club activities aim at advancing students' athletic abilities as well as academic and cultural understanding, and student council and student-led committees support the execution of these activities. In the educational environment outlined above, our students mutually recognize each other's characters and abilities, as well as cultivate an attitude of respect. At our school, all-around character formation is encouraged. Almost all of our students continue their studies at the university level.
Outline of the school system
1. The mission of the school

"To lead students who aim to challenge, create, and contribute in a liberal and generous school atmosphere."

These words directly describe our school.

"Challenge" describes the creativeness without a fixed sense of value.

"Create" describes the spirit of the free and generous mood.

"Contribute" describes the act of returning what we were given to the society by "Challenging" and "Creating".

Especially the word "Liberal and Generous" is a famous word for describing this school in one word.

2. Our students

Our school is a boys' school, and there are around 40 students in our usual class.The middle school has 3 classes per grade which makes 120 students in all. The High School takes an additional 40 students by the entrance exam so there are 4 classes per grade, 160 students in total. So there are about 840 students in this school.

3. The time schedule of a day

Weekdays
Arriving Time to School 8:00am~8:30am
First Period 8:30am~9:20am
Second Period 9:30am~10:20am
Third Period 10:30am~11:20am
Forth Period 11:30am~12:20pm
Lunch Break 12:20pm~13:00pm
Fifth Period 13:10pm~14:00pm
Sixth Period 14:10pm~15:00pm
*This time schedule is same throughout the whole year.

Saturdays
Our school is a national school so it shouldn't be having school on Saturdays. But it sometimes has school on Saturdays to do special classes.

Sundays
It has no school on Sundays. But students are allowed to use classrooms if they get permission from teachers.
Studies
1. The school curriculum

The school curriculum of Junior High School is as follows.

Japanese, Social Studies, Mathematics, Science, English : 3 ~ 5 days a week
Music, Art : 1.5 ~ 2 days a week
P.E : 3 days a week
Industrial Arts and Homemaking : 2 days a week
Moral education, Homeroom meeting : 1 day a week

The school curriculum of High School contains both required and elective subjects. Students have to earn a total 77 credits to graduate.

2. Excusions and Fieldworks

Each grade has an excursion to highlands or fieldwork of area studies. Furthermore, it has other programs as rice planting, scientific fieldwork.

School events

We have many school events throughout the year. Every student participates in the events. Our biggest events are as follows.

1. Chorus Competition

Our first big event of the year is the Chorus Competition, which is held in June. Every class in the school sings two songs each, and competes with other classes to decide which class is the best. Before the competition, every class takes time practicing their songs.

2. Sports Festival

The next big event is the Sports Festival. This festival lasts for two days. Students compete with the other 3 classes in their grade and try to get highest score in total. At the Sports Festival, they play over 20 kinds of sports, such as tennis, volleyball, basketball, and handball. Students also play unique sports like sumo, kendo, dodge ball, and a bamboo version of tug-of-war. They also practice with their teammates before the festival.

3. School Festival

The biggest event of the year is the School Festival. Over 15,000 people come to see our school during the festival. Most of them are students from other schools, and parents of the school students. At the festival, there are plays and displays from each class and also from groups. There are also food booths, stage shows, arcade booths, and even auction booths. The most unique point is that the back bone of the festival is the 12th Grade. Even though they are busy before the entrance exam, they use all of their energy for their final festival of High School life.

4. Road Race

Our last big event of the year is the Road Race. Students run along the river near to our school. The race takes place in the middle of the winter. Most students prepare for the race by running around the school field and also on weekends. At the race, the High School students run 8 kilometers, and the Junior High School students run 4 kilometers.